Product Description
Introducing our all-new plain toe boots, designed with the utmost comfort and durability in mind. The boots feature the all new NEGON last, which boasts a wider and flatter toe shape, providing ample room and a more comfortable fit for your feet. Additionally, the last incorporates a supportive back area to ensure excellent stability.

Crafted with meticulous attention to detail, the boots boast a combination of luxurious materials and practical features. The shaft and vamp are fully unlined for a lightweight and breathable feel, while the horse leather lining adds a touch of sophistication and enhances the overall comfort.

To enhance the functionality of the boots, we have included an extended bellows tongue, which provides extra protection against debris and enhances the waterproof capabilities. The soft leather toe puffs offer additional reinforcement and durability in the toe area, ensuring your boots withstand the test of time.

For added support and structure, the boots are equipped with thick vegetable tanned leather heel counters, which provide stability and prevent excessive wear. Steel shanks are incorporated into the design to offer arch support and enhance overall foot stability during long walks or demanding activities.
To ensure longevity and durability, the boots feature thicker eyelets that securely hold the laces in place. Additionally, the veg tan storm welts add a layer of water resistance and protect the boots against the elements.

The GY4 Flex Goodyear Welted construction method has been employed, ensuring exceptional durability and ease of repair. The boots are assembled using thick veg-tan leather insoles and midsoles, offering superior comfort and support for your feet.

In summary, these boots are the epitome of style, comfort, and durability. With their wider and flatter toe shape, supportive back area, luxurious materials, and practical features, they are the perfect choice for those seeking a reliable and fashionable footwear option.

Sizing:

**This style is part of our new range of Extended Sizing, we've worked to offer a selection styles in a unified sizing system ranging from size 2 to size 15 in order to provide as many options as possible to both men and women. For this style men we do recommend to with your regular Meermin UK size for a comfortable fit, whereas we do recommend women going 1 full size down from their regular UK Meermin size or 3.5 sizes down from their US size.**

· Extended Sizes range comes in sizes from 2UK to 15UK in order to cover all sizing needs.
· Men's go with your regular UK size, for a comfortbale fit on this last.
· Women's take 3.5 sizes down from your US size or take 1 full size down from your UK Meermin size.


Specification
Construction
Flex goodyear welted
Upper leather
Waxy kudu
Tannery
C f stead (uk)
Last
Negon
Uk fitting
E (medium)
Sole
Double city lug
Insole
Vegetable tanned leather
Lining
Unlined shaft + horsehide vamp
Waxy kudu
Tannery: Charles F. Stead
Country: UK
Substance: 2mm
Finish: Waxed
Waxy Kudu leather is a truly unique and very special one—Made using antelope leather from Southern regions of Africa. A striking & very unique waxed leather which features all the natural blemishes, scars and scratches of a wild antelope that lived in the bushes. Blemishes & cuts are part of the interest of this leather and are be used on the production of the uppers, making every single pair truly unique. Exclusively sourced from the renowned suedemaker C F Stead Tannery in Leeds, UK, which is often considered to be the best in its class.
Waxy Kudu is a thick, extremely soft and yet very durable leather. It is a true pleasure to wear and see age over time, developing an incredible patina, aside from getting more and more comfortable over the time.
As with any leather, you'll want to prevent it from drying out, and in this specific case we do recommend to keep the Waxy Kudu nourished & waterproofed with an occasional maintenance with our Dubbin Wax from Famaco or even Famaco's Renovateur, for a lighter protection.
Definitely the perfect boot leather.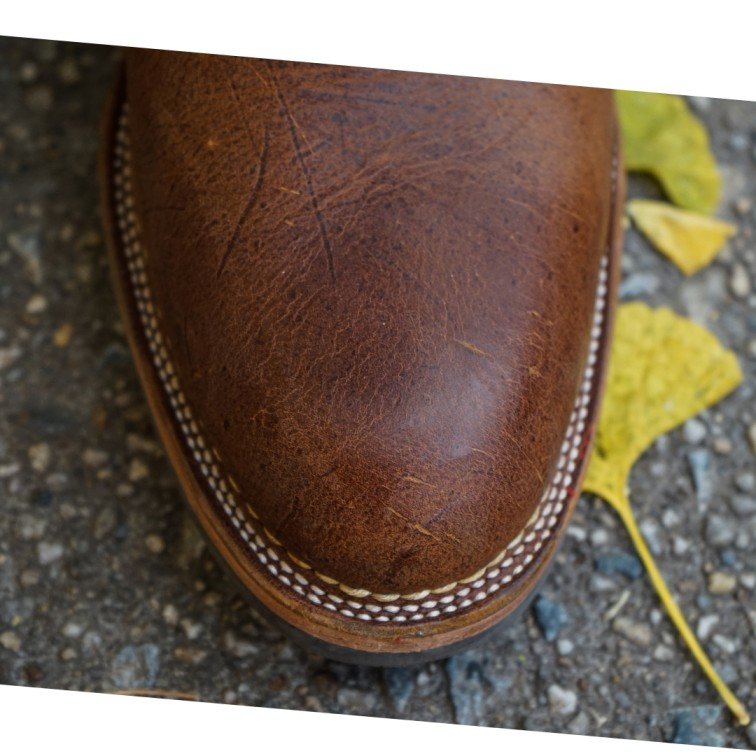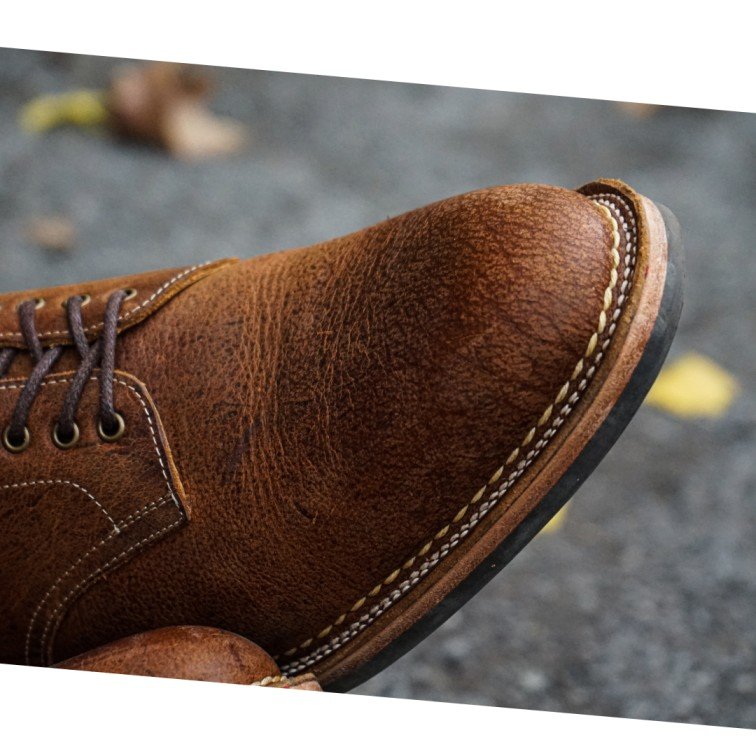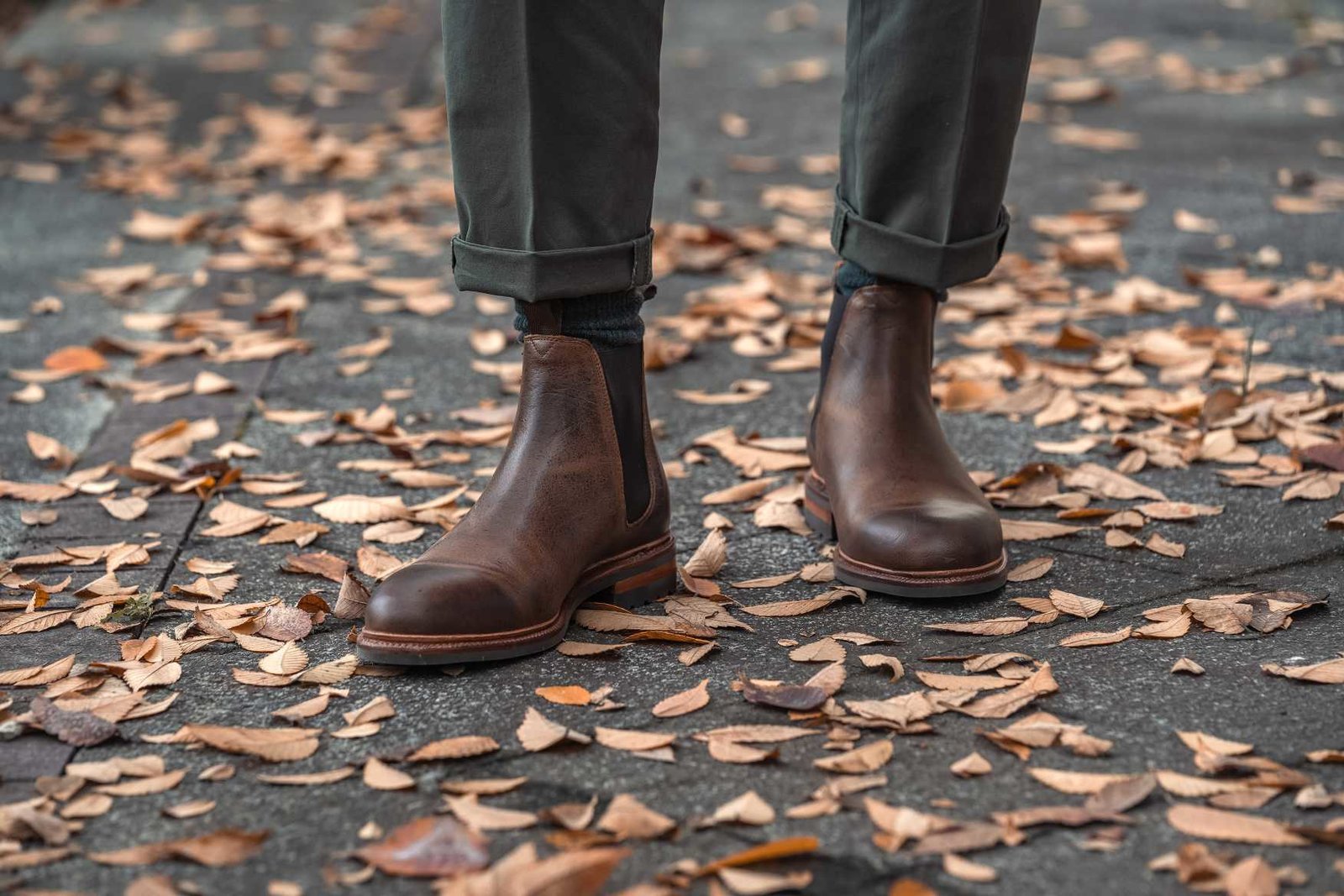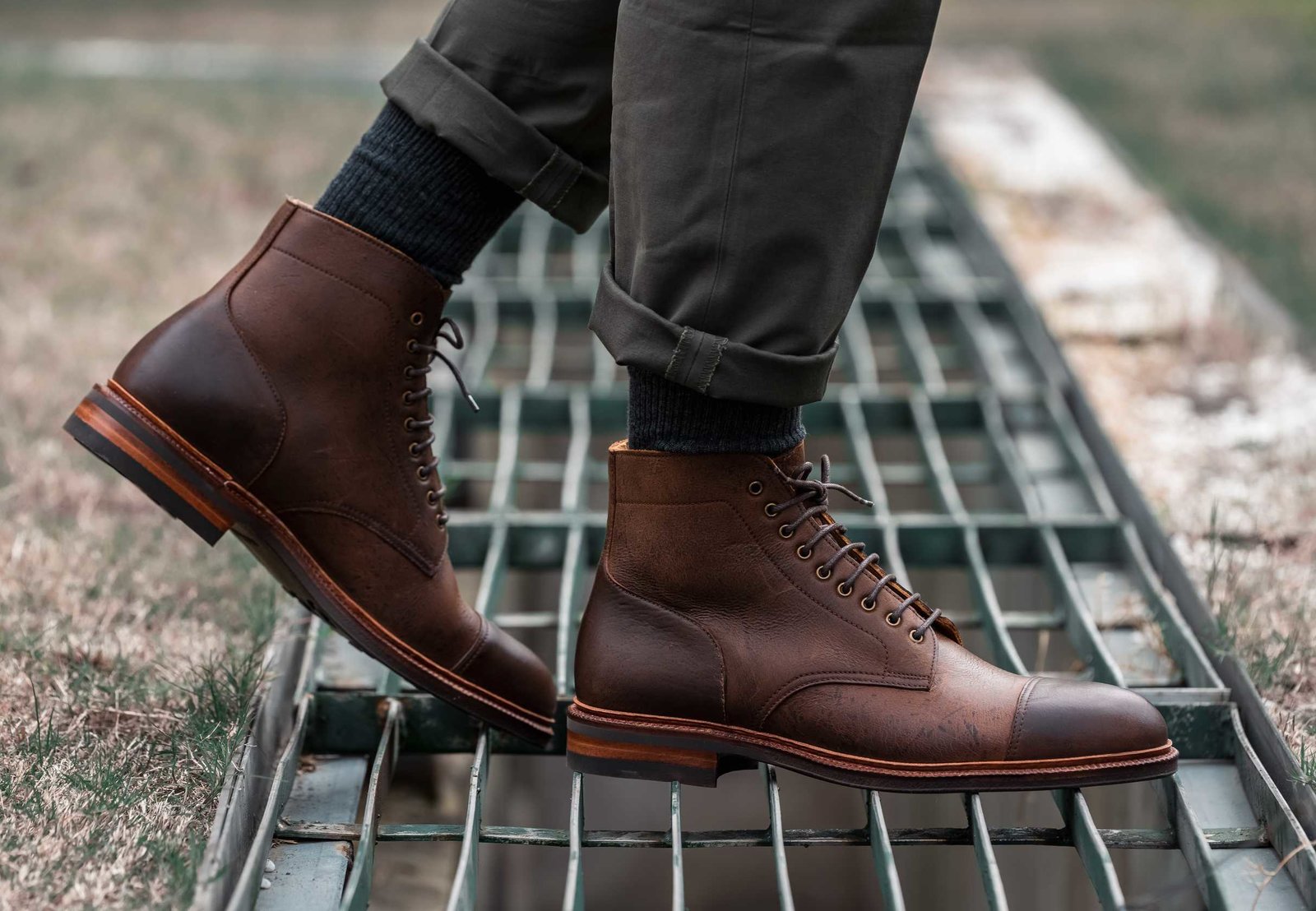 Unlined shaft + horsehide vamp
Size Guide Men
Please note that all our shoes & boots are UK sized. Below you'll find the men's specific size chart:
---
Can I use my sneaker's size as a reference?
Goodyear Welted shoes & sneakers are made & fit quite differently. Sneaker fit is quite forgiving, whereas in a Goodyear Welted pair of shoes you'd like to have a close and adjusted feel in order to have the best and most comfortable fit.
Said that, better to compare with another pair of Goodyear Welted or dress shoes you have or have tried before.
What do you recommend if I am in between sizes?
If you're in between sizes, size up. Too tight shoes will end up resulting uncomfortable or not wearable.
Do your lasts fit all the same?
No they don't. Said that, most of our lasts are UK E width (medium/regular fit) and you most likely will be wearing the same size across many of them.
We recommend checking our Lasts page for a more detailed description of each of the lasts we currently have in production.
I wear a special size, can you produce a pair for me?
Sure! Most of our ready to wear production goes from size 6UK to 12UK, but if you happen to wear a smaller or larger size, we can definitely help & specially make any pair from our collection for you. Please do contact our CX Team, we'll be delighted to assist you.
I wear orthotics—Can I remove the insoles?
The answer is no, but there are a few exceptions. The leather insole is a structural part of our shoes/boots, is where the Welt & uppers are stitched through the welting process, and so it cannot be removed.
Said that, there is one exception, which is our Ultraflex System construction, which aside from the structural leather insole also comes with an additional memory foam insole on top of it. This memory foam insole can be removed easily.
---