With Winter Season in full swing, there is nothing better than wearing a nice pair of waterproof boots. Aside from the fact that all our boots feature a Goodyear Welted construction which is water-locking by nature, we've put together a collection using various unique materials & styles to keep you warm & dry through the Winter.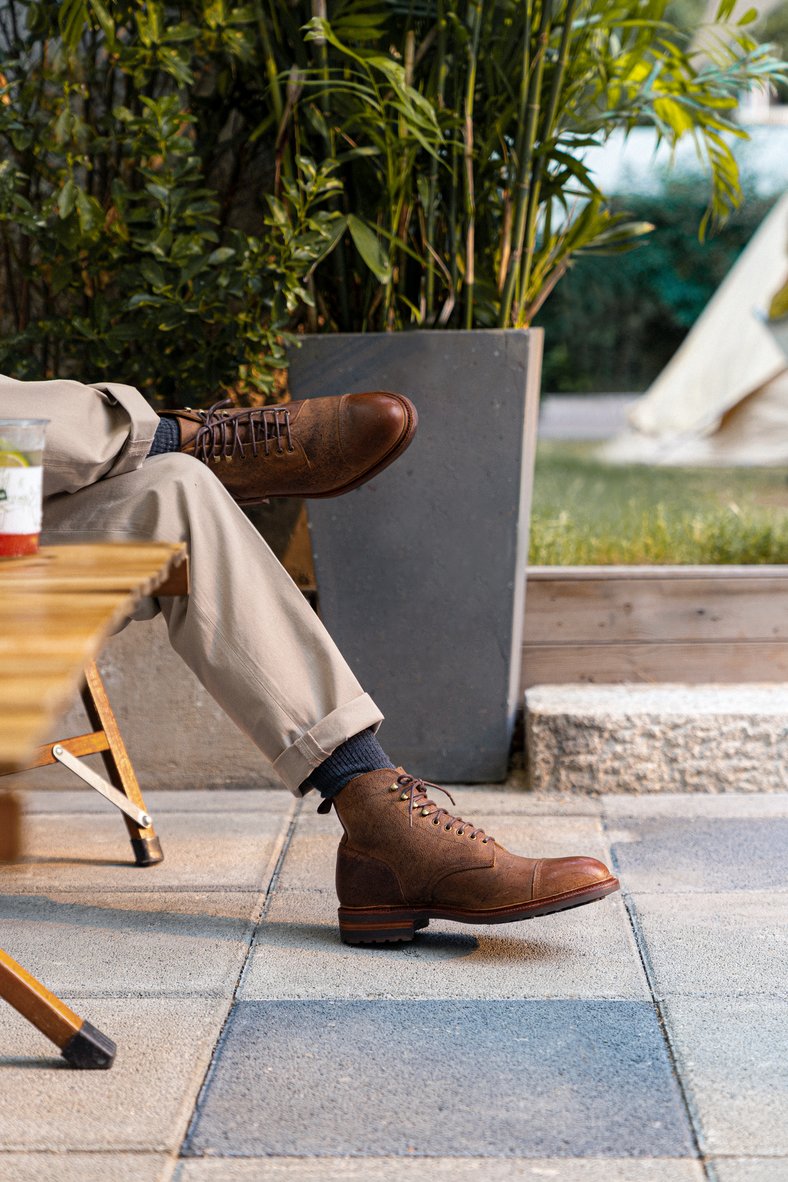 116210 - Camel Waxy Kudu - E
With a very tight fiber structure, Stead's proprietary tannage & the treatment with natural waxes, this waxed suede leather is extremely resilient & durable, as well as very easy to maintain. Exclusively sourced from Charles F. Stead tannery based in Leeds (UK), Waxy Commander is made to get you through the Winter harshest conditions while looking your best.
The Waxy Kudu leather is a truly unique one—waxed antelope leather from Southern regions of Africa. A striking & very unique leather which features all the natural blemishes, marks and scratches of a wild antelope that lived in the bushes. Blemishes & cuts are part of the interest of this leather and will be used on the production of the uppers. A very robust & dense leather as well as extremely elastic & soft. A true pleasure to wear. Exclusively sourced from the renowned British tannery C F Stead in Leeds, UK.
Some of the newest additions to the specialty leathers line up are coming from from C F Stead tannery, including Unicorn (Moose) and Kudu in two different finished Naked & Shrunken.
Spotlight: The Unicorn, is produced using selected hides of Scandinavian Elk (Moose), offering a superb full-bodied, heavy-weight leather, yet extremely soft with the distinctive grain character of elk. The finish of natural waxes retains and enhances the full natural character of this attractive and durable leather.
The Meermin Exclusive Waxy Shell Cordovan; something really unique that we've been working for a years until we got it just right. For this new & exclusive development this unique leather, shells go through a straight vegetable tan with a newly developed formula of liquors, oils and waxes resulting in an extremely pliable, soft and casual Shell Cordovan, while retaining all the shell fiber density and structure. With an unglazed and heavily waxy surface—ready for an aggressive patina from day one. Something really unique and unseen before.
Waxy leathers are very resilient and extremely easy to care. To extend the life of your waxed footwear, keep it in great shape & restore its waterproofness, make sure to use appropriate shoe care.